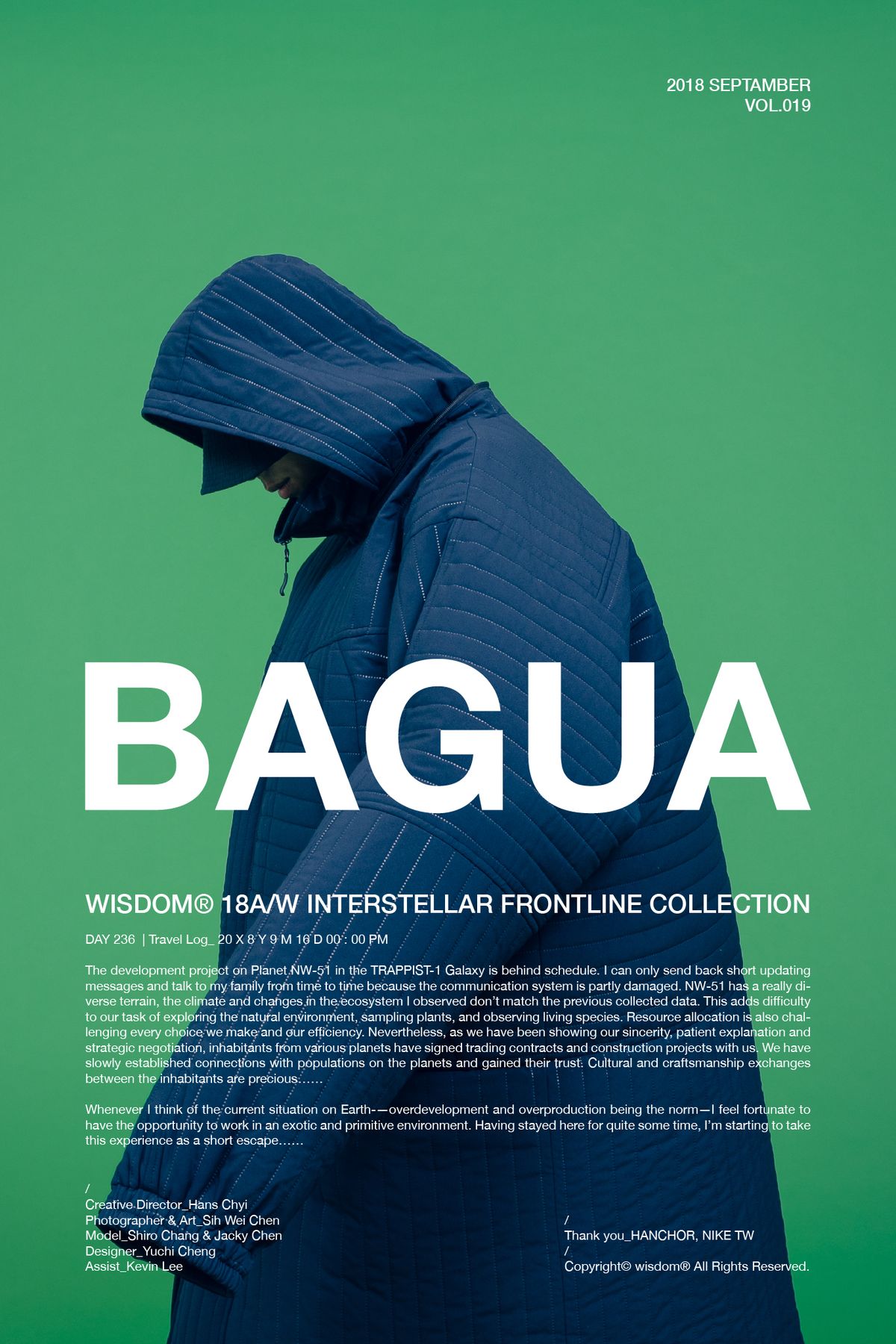 INTERSTELLAR FRONTLINE
WISDOM® 18A/W COLLECTION
IMAGE


自 wisdom® 18AW 秋冬系列「INTERSTELLAR FRONTLINE」製作全新對應形象 「BAGUA」八卦,將中國最古老的文明智慧經典《易經》中的符號系統,融合在表現服裝造型的演繹當中,在面對時節、地緣的物理多樣性變化之中,尋找出設計著用的各種可能;同時再次型塑出「輕機能 便旅型 | TRIP EASY, FUNCTION BEAUTY」的世界觀樣貌,也從變與不變的哲理思考概念裡演化出近未來的機能搭配平衡性。



_



"BAGUA" a special editorials by wisdom® for its 18AW Autumn and Winter "INTERSTELLAR FRONTLINE" Collection. Referencing one of the ancient books of wisdom "The Book Of Changes", adopting it's symbolism system into the stylings of each outfits, considering every seasons, geographic conditions of each garments and its suitable uses, trying to match every possibilities and counter styles. In search of a perfect balance between functioning and styling. Building around the idea of TRIP EASY, FUNCTION BEAUTY.
完整 IMAGE 形象

wisdom® 2018 AW"INTERSTELLAR FRONTLINE" COLLECTION
FIRST RELEASE @ WHITE ROCK

▍時間_ 2018.09.01(Sat.)
▍地點_ WHITE ROCK STORE
台北市中山區中山北路二段128巷1-1號
▍Opening hours_ Mon-Sat|12:00-20:30
Sunday off
⠀⠀⠀⠀⠀⠀⠀⠀⠀⠀⠀⠀⠀⠀⠀⠀⠀⠀⠀⠀⠀⠀⠀
< 實體店舖與官網同步販售 >
www.whiterock2008.com.tw

_
Creative Director_Hans Chyi
Photographer & Art_Sih Wei Chen
Model_Shiro Chang & Jacky Chen
Designer_Yuchi Cheng
Assist_Kevin Lee
/
Thank you_HANCHOR, NIKE TW
/
Copyright© wisdom® All Rights Reserved.