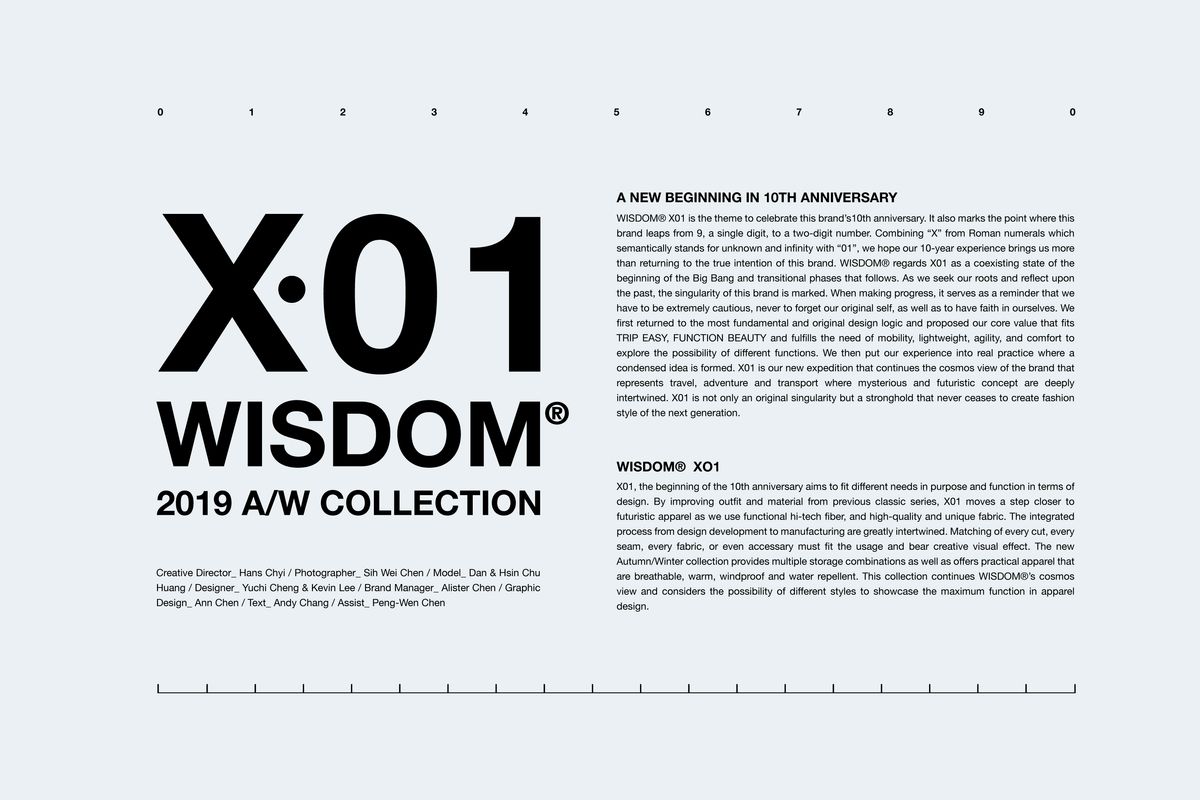 WISDOM® 2019 AUTUMN / WINTER COLLECTION - X.01 | IMAGE
10 年新起點宣言

WISDOM ® X01,作為品牌屆滿 10 年的主題,從個位數最大的 9 到二進制的記數,使用羅馬數字「X」作為符號語義還代表著「未知、無限」,加上與「01」的結合,期許這 10 年來的經驗歷程帶我們不只回歸品牌的初衷,WISDOM ® 視 X01 為自身宇宙大爆炸太初與過渡的並存,在既往尋根、追溯歷程中,品牌起始的「奇異點」被明確註記,也提醒這將往前踏出的一步要戰戰兢兢、勿忘初心,帶著考究嚴謹但信仰堅實的心態,重新以最基本、最原始的設計邏輯出發:自提出相符「輕機能 / 便旅行」與「移 / 地 / 輕 / 旅」的品牌中心守則後,以各種可能開發適性合宜的機能規律,最終再到生活實踐中得到凝練結晶;X01 做為全新開發任務,延續旅行、探險、運輸的品牌宇宙觀渲染新生的神秘感與未來感。X01 不只是一個原生的「奇異點」,而是目標更高的據點,不停歇邁向下一個世代的服飾風格體驗。
_
A New Beginning in 10th Anniversary
WISDOM ® X01 is the theme to celebrate this brand's 10th anniversary. It also marks the point where this brand leaps from 9, a single digit, to a two-digit number. Combining "X" from Roman numerals which semantically stands for unknown and infinity with "01", we hope our 10-year experience brings us more than returning to the true intention of this brand. WISDOM ® regards X01 as a coexisting state of the beginning of the Big Bang and transitional phases that follows. As we seek our roots and reflect upon the past, the singularity of this brand is marked. When making progress, it serves as a reminder that we have to be extremely cautious, never to forget our original self, as well as to have faith in ourselves. We first returned to the most fundamental and original design logic and proposed our core value that fits TRIP EASY, FUNCTION BEAUTY and fulfills the need of mobility, lightweight, agility, and comfort to explore the possibility of different functions. We then put our experience into real practice where a condensed idea is formed. X01 is our new expedition that continues the cosmos view of the brand that represents travel, adventure and transport where mysterious and futuristic concept are deeply intertwined. X01 is not only an original singularity but a stronghold that never ceases to create fashion style of the next generation.
_

WISDOM ® XO1 | 10 週年奇異點 品牌起始與初衷
品牌 10 週年起點的規劃製作 —— X01 ,設計上追求在對應功能需求中的目標形式,款式與材質也持續精進以過往經典開發貼近未來穿著的可能,使用各式搭載機能的科學纖維到獨具特色質感的天然面料,每一步設計開發與製作整合的進程都交互影響著,每一片剪裁、每一道車線、每一塊面料副料等的搭配都要求精確符合貼身使用邏輯性與視覺樣式開創性。全新秋冬季度的系列有上到下的多樣化收納套裝組合,也有裡到外的保暖透氣又防風防潑等實穿效益,延續建立 WISDOM ® 的「宇宙觀系統」,最大程度的考量類型風格發展的可能性實現,呈現出現時最佳穿著的機能設計綜效。
_

WISDOM ® XO1 | 10 anniversary

X01, the beginning of the 10 th anniversary aims to fit different needs in purpose and function in terms
of design. By improving outfit and material from previous classic series, X01 moves a step closer to
futuristic apparel as we use functional hi-tech fiber, and high-quality and unique fabric. The integrated
process from design development to manufacturing are greatly intertwined. Matching of every cut,
every seam, every fabric, or even accessary must fit the usage and bear creative visual effect. The
new Autumn/Winter collection provides multiple storage combinations as well as offers practical
apparel that are breathable, warm, windproof and water repellent. This collection continues
WISDOM®'s cosmos view and considers the possibility of different styles to showcase the maximum
function in apparel design.


WISDOM® 2019 AUTUMN / WINTER COLLECTION

_
CREATIVE DIRECTOR_HANS CHYI
PHOTOGRAPHER_SIH WEI CHEN
MODEL_JULIAN FURTAK
MAKE-UP_CHUN HUA HUANG
BRAND MANAGER_ALISTER CHEN
DESIGNER_YUCHI CHENG & KEVIN LEE
GRAPHIC DESIGN_ANN CHEN
TEXT_ANDY CHANG
ASSIST_JOSH WANG
/
Copyright© WISDOM® All Rights Reserved.